We can help you integrate NetBrain into your operations.
NetBrain Use Case Scenarios
Itrica consultants use the NetBrain Platform to support any number of customized applications or use cases. Have an idea for how we can help but don't see it here? Let's talk through it!
ITSM Automation
Integrate network automation with ITSM systems to increase ticket resolution and reduce MTTR. Automatically trigger problem diagnosis upon ticket creation. A library of pre-built automations and infrastructure knowledge starts workflow automation creating diagnostics and mapping for the operator. Using automation to address recurring types of problems reduces repetitive tasks to improve operational efficiency.
Address up to 95% of network service tickets
Reduce MTTR by half or more
Prevent up to 50% of abnormal network conditions that would otherwise lead to the creation of even more service tickets
An out-of-the-box ServiceNow connector tightly joins the two systems together enriching the value of your ServiceNow deployment. After configuration, ServiceNow automatically triggers NetBrain PDAS to begin problem diagnosis the instant any service ticket is generated, not hours or days after the problem has been reported, facilitating the resolution of intermittent or transient issues.
Network Troubleshooting Automation
NetBrain PDAS enables IT teams to quickly discover issues, troubleshoot collaboratively, and capture subject matter problem-solving expertise as automation.
Automatically map the area, executes tasks, and records the diagnosis before your technicians get involved.
By offering an informed collaboration portal, NetBrain PDAs allows teams to work together in real-time, eliminating time-consuming hand-offs and escalations.
Capture the steps your SMEs take and turning them into re-usable network automation units, problems can be solved once, and leverage that expertise in the future, dramatically reducing your resource demand and MTTR.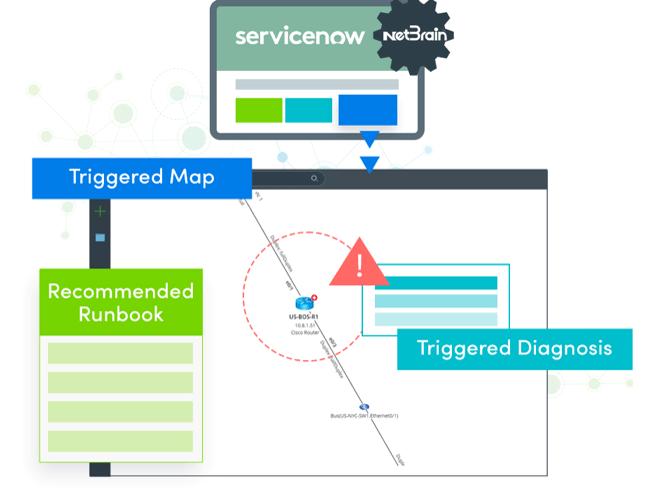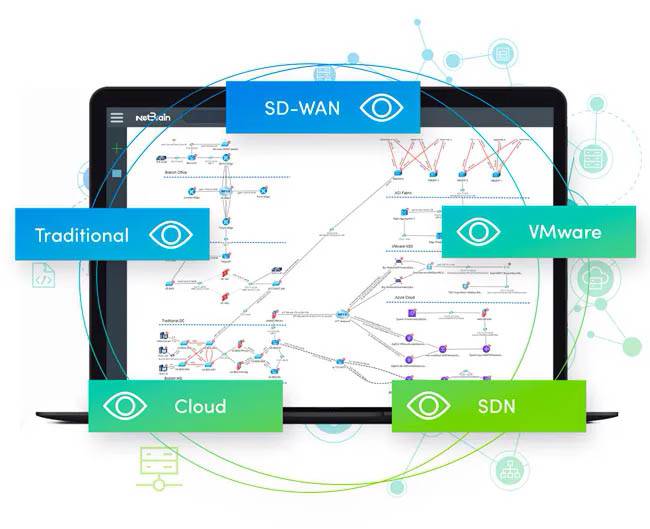 Advanced Hybrid Network Visualization
NetBrain PDAS understands every aspect of your hybrid network and then renders a data model in real-time. NetBrain uses this model to generate real-time dynamic maps of your network, which become the foundation for network automation.
Generate a "digital twin" of the hybrid network using a powerful discovery engine – provides absolute 'source of truth' for all troubleshooting or automation efforts.
Collects and aggregates data from complex physical and logical topologies across geographically distributed sites, including software-defined LAN and WAN deployments and presence in any major public cloud, and produces a dynamic map of the hybrid network in real-time.
Network Automation for Change Management
Due to increasing network complexity, change management errors are the cause of most network issues, including service outages. NetBrain PDAs reduces the risk of network disruption by allowing you to make highly informed network changes and validate the changes did not cause unintended impact on other business services. It eases the execution and verification of critical network configuration changes at scale.
Quickly deploy configuration changes and verify the intended impact to avoid network downtime.
Revert any changes that may have an adverse effect on the network with rollback to previous versions to mitigate unexpected changes.
Easily see any impact to network topology, validate the impact against previous snapshots, and deploy changes across all devices in the network.
Keep documentation updated automatically.
Automating Security & Compliance
Your network should work the way it was intended, always. NetBrain PDAs uses intent-based networking automation to keep your network free from threats. It alerts you if security conditions change, identifying incidents before they affect production. Regular security checks coupled with adaptive monitoring technology identify configuration drift and compliance issues and prevents them from impacting business services.
Maps the path of malicious traffic, showing contextual and historical configuration changes as soon as your security monitors or SIEM and IDS systems are alerted to a threat with intent and third-party data overlayed on top.
Run predefined diagnostic automations and conduct triage while capturing infrastructure and performance data from the time of the security incident.
Quickly identify where you need to stop traffic, disable ports, or change policies to quickly halt threats.
Create automation from subject matter expertise without code while making changes to resolve the security threat and store it in the Automation Library.
Collaborative Network Operations
To quickly solve service delivery incidents, operations teams must collaborate with the SMEs from other related operational teams, including the NetOps, DevOps, AIOps and SecOps teams. NetBrain PDAs incident collaboration easily allows the creation of automation during collaboration without code, speeding resolutions by eliminating hand-offs and escalations.
Work together and interact in real-time to quickly resolve issues, discuss the best plan of action, test various scenarios, and agree on committed resolutions, interactively.
Eliminate finger-pointing, duplication of effort, delays, and bottlenecks with real-time visibility for all operations teams.
Turn SME problem solving expertise into executable automations without any coding.
Use Intent-Based Automation to ensure that the network architect's performance intentions are protected when executing network changes.
A Global Partnership
Itrica works closely with NetBrain to ensure the most comprehensive integrations and automations possible.   Trust your network operations to this partnership.  See more at www.netbrain.com.